How do you use Olive & Bee? Results are in!
Thanks so much to those customers who provided us with information on how they're using Olive & Bee.
Here's the results we complied from the responses.
How often should I use Olive & Bee?
The majority of respondents reported that they use Olive & Bee daily.
Many customers use it more than once a day, such as morning and night, after a shower or before a swim.
Some customers use Olive & Bee several times a week, possibly on the days they are not using topical hormonal treatments.
Many customers use just as needed.
How long will a tube last?
On average a tube lasts 3 months, but tends to last customers 2-6 months.
What could I use it for?
Olive & Bee is used by people of all ages, but especially post-menopausal women.
It's used as a personal lubricant.
Olive & Bee is used most extensively as a vulval and vaginal moisturiser, for symptoms of vaginal atrophy such as dryness, itch, sensitive/inflammed tissues and thinned tissues.
There are reports that it has reduced the frequency of urinary tract infections and thrush infections.
There is also extensive use by women who suffer from the side effects of low Oestrogen treatments, such as women undergoing cancer treatment.
Olive & Bee helps women with vaginal dryness and healing post childbirth and while breastfeeding.
Olive & Bee is used assist in inserting pessaries and tampons.
It is used as a massage oil.
Olive & Bee is also used to moisturise other parts of the body.
How should I apply it?
Most Olive & Bee users apply the cream with their fingers, however some do use an applicator to use higher in the vagina.
Please remember that this is not individual health advice – please follow the recommendations of your health professional.
---
2,500 year old olive tree destroyed.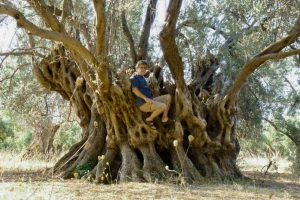 This historic 2,500 year old olive tree on the Greek island of Evia was destroyed in recent wildfires. How sad.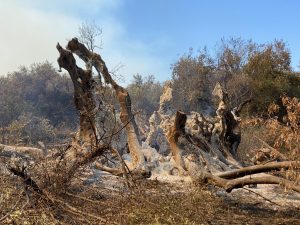 ---
New Stockists
NSW
Lennox Head Pharmacy – Terry White Chemart, Lennox Head
Peak Flo Physio, Banora
Physio Plus, Lismore, Casino & Ballina
Sunrise Pelvic Physiotherapy, Newtown
HONG KONG
Femcare (online)
I hope there's a new stockist near you!