Women's Health Week
4-8th September is Jean Hailes Women's Health Week.
Olive & Bee is sponsoring a record number of events this year!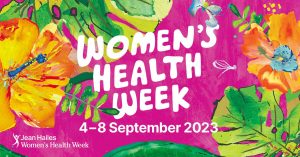 Jean Hailes Women's Health Week is Australia's largest event dedicated to the health and wellbeing of all women, girls and gender-diverse people.
Every September, over 200,000 people gather in the boardrooms, tearooms and community centres of Australia to share vital, up-to-date health information.
Online, the audience exceeds 5 million, with over 1.6 million pageviews of the Jean Hailes website. Participants can host an event, attend an event, or simply sign up to the email list or social channels for evidence-based health information.
For full program details click HERE
______________________________________________________________________
Paypal 1 in 4

Did you know you an pay for your order in 4 installments?
Paying for your order via Paypal allows you to access Paypal 1 in 4.
______________________________________________________________________
New Stockists
SA
Adelaide Women's Healthcare Collaborative, Rose Park
Gawler Pharmacy, Gawler
Health E Advice Chemist, Gawler
Hewett Pharmacy, Hewett
Meadows Community Pharmacy, Meadows
Nairne Community Pharmacy, Nairne
TerryWhite Chemmart, Gawler
Terrywhite Chemmart, West Lakes Shore
VIC
Sunbury Physiotherapy, Sunbury
NSW
Dr Danielle Delaney, Cammeray
Temora Women's Health Physiotherapy, Temora
QLD
Restore Physiotherapy and Lymphoedema Clinic, Yeppoon
Wholesome Women, Everton Hills