Understanding EVOO
(courtesy of the Heart Foundation)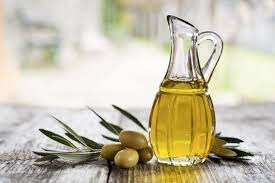 The ancient Greeks were on to something when they referred to olive oil as an "elixir of youth and health." Centuries later, research offers evidence about the benefits of olive oil in our daily diets.
Consuming more than half a tablespoon of olive oil a day may lower heart disease risk, a 2020 study found. And earlier this year, researchers reported in the Journal of the American College of Cardiology that people who ate more than half a tablespoon per day had lower rates of premature death from cardiovascular disease, Alzheimer's disease and other causes compared to people who never or rarely consumed olive oil.
"Olive oil is the hallmark of the Mediterranean diet, and its link to lower mortality is well established in southern European countries.
Among all edible plant oils, olive oil has the highest percentage of monounsaturated fat, which lowers "bad" LDL cholesterol and increases "good" HDL. It's been shown to lower blood pressure and contains plant-based compounds that offer anti-inflammatory and antioxidant properties known to reduce the disease process, including heart disease.
Several grades of olive oil are found on store shelves, from regular to extra virgin olive oil – commonly known as EVOO.
EVOO is the fatty fraction of olive juice extracted only by mechanical and physical processes without any refinement. It's the lack of refinement that maintains both its sensory and health properties. "First-pressed" and "cold-pressed" are terms that emphasize the EVOO is an unrefined, natural product that has undergone a single, simple milling process without any processing to alter its quality.
Regular olive oil, on the other hand, has been refined, bleached, deodorized and then blended with 5% to 15% EVOO. "Pure" or "light" are marketing terms used for olive oil that has been refined and mixed with a small amount of EVOO to yield a product that's lighter in flavor, aroma or color.
European studies have shown better health results with EVOO which has a higher amount of plant compounds and antioxidants than other edible oils.
When cooking, olive oil can be a healthy substitute for butter, margarine and other types of fat.
_____________________________________________________________________
EVOO in Olive & Bee
We use Extra Virgin Olive Oil in Olive & Bee. Obviously not for the dietary benefits, but because we source our oil from local producers, who provide us with the best quality oil, full of antioxidants, and natural antibacterial and antifungal properties!